Premier League Darts – Spieltag 6 bis 9
The first 5 days of the Premier League darts are over. This week, the next 4 match days will take place. After these days of play, the round is over. This means that the so-called Judgement Night will take place on the 9th match day (Thursday) before it continues in May.
After Judgement Night, the last two players in the table will be eliminated from the Premier League, so that the return round continues with 8 instead of 10 players. It is already clear that one of these players will be Glen Durrant. His performances so far have been underground and he has lost all his games so far clearly and without chance. The defending champion from last year has never been in shape since his Corona illness, so he is likely to finish last in the end.
Nevertheless, the Premier League offers an enormous suspense this year, as the field of participants is very balanced and there no longer seems to be an absolute dominator.
Let's take a look at the table at this point: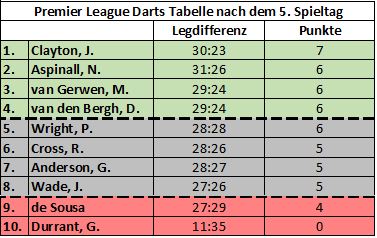 This table shows how narrow the field is and that predictions are very difficult.
In front is Johnny Clayton, who has been performing really well since the restart in 2020 and will continue his run in 2021. He is the only player to win 3 games and also has won a draw. He himself rewarded his good performance with a 9-Darter and is thus ranked No.
This is followed by 4 players with 6 points. Each of these players has won 2 wins and 2 draws so far. So that the placement is determined by the leg difference.
If we talk briefly about the players, we will see Nathan Aspinallat No.2, who has switched back to his old darts before the tournament. With these he seems to feel much more comfortable and has been able to convince with his achievements so far absolutely.
In third place is the favoured Michael van Gerwen. His performances so far are fine, but the focus on him is always very strong as you still expect a bit more from him. With one exception in the game against Rob Cross, he has nifty up to his top performances.
At number 4 is currently Dimitri van den Bergh. The debutant has done his job well so far and was able to convince with solid performances. He is currently in the last play-off spot. In the current table situation and the balance of the participant field, however, this is only a snapshot and has little significance after 5 days of play.
At number 5 is Peter Wright. Of course, he wants to be in the top four at the end of the round-trip. So far Peter Wright is playing a decent Premier League season. The 5th place could be a little deceiving over the situation of him, but he is equal to the second place in the table Nathan Aspinall.
Cross, Anderson and Wade are 6-8 with five points each.
Gary Anderson in particular is sure to qualify for the top four. However, he also has to keep an eye on the players behind him, because they can also play a very good dart.
Rob Cross has been seen as one of the candidates to drop out after Judgement Night. However, he has made a pretty decent start to the Premier League. But it is not yet certain.
James Wade, the back-rower for Gerwyn Price, is likely to be one of the candidates to return home after nine days of play. However, it is still above the line and also rather with its quality can put another skip on it.
In ninth place and thus the bottom line is the Portuguese Jose de Sousa, who has also delivered good performances so far. He's the player who lost a game against Clayton with a 108-run average. That alone shows what he is capable of and that he will definitely get his chances. In addition to Johnny Clayton, he has also thrown a 9-Darter in the previous 5 days. With de Sousa you can definitely still count, because the man can play really good darts, but has strong problems when it comes to arithmetic.
Who you should write off, however, is Glen Durrant. As mentioned at the beginning, he has been in a form low for months and has rightly lost every game so far. For him will most likely be over after nine days of play in the Premier League.
How do the bookmakers assess the situation?
The bookmakers still rate Michael van Gerwen as their favourite. Somewhat surprisingly, Bildbet currently offers the highest rate at 2.62.
Peter Wright gets a 5.00 odds from Betano for winning the tournament. Johnny Clayton at least a 7.50 odds also at Betano.
The rest of the players are quoted in the double digits.
All in all, the situation is assessed very evenly, with van Gerwen being credited with the greatest chances of winning the title in the end.
What is striking is that hardly anyone expects Nathan Aspinall. After all, "The Asp" was in the semifinals last year and started the season very well.
We can still look forward to exciting days and we can look forward to seeing who survives The Judgement Night and whether there is someone who can settle down a little bit.
We hope that it will continue to be exciting and that the field may be even closer in terms of points.